The revolving door
During my time at university, political chat was never constructive. My friends and I would constantly critique the Government; highlighting inconsistencies in their policies, the lack of dignity in their characters, and our sheer despair at the quality of leaders called to the dispatch box.
I'm ashamed to say that my workplace isn't much better…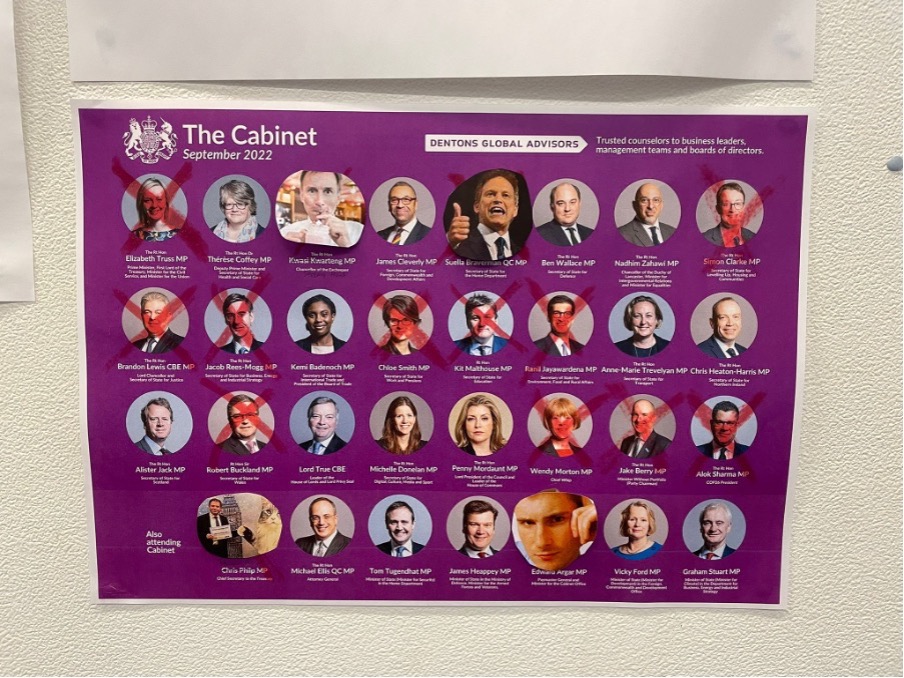 Over the course of Liz Truss's premiership, my team were slowly/quickly crossing off every Minister who had resigned or had been sacked. It's safe to say that after last week's reshuffle, the map had become a massacre.
Such a culture quickly breeds cynicism which leads to despair and despondency – what is the point of politics? Does it even achieve any good? Are all political leaders doomed to fail? Is there any point in engaging anymore?
It is not a bad thing to have these questions – but as Christians, we needn't despair over them. Rather than joining in with regular pub moaning (as fun as it might be), we should be turning to God, presenting our questions, and listening to Him. It is only He who can provide the sense of calm, consistency, and goodness that we crave.
Submission to governing authorities
Romans 13:1 couldn't be clearer in saying that "there is no authority except that which God has established. The authorities that exist have been established by God". The Lord is in complete control of the Number 10 tenancy: each political leader has been placed in their role at the right time under the Lord's sovereignty and we are to therefore submit to them.
'Submission' often gets a bad reputation for stripping us of our freedom and agency. However, submission is an integral (and positive) part of the Christian life (James 4:7). We are to submit to God and submit to the authorities He has ordained – even when His reasons for doing so go beyond our comprehension.
Engaging with governing authorities as we submit to the true governing authority
This is not to say that we cannot disagree with our leaders – quite the opposite! In the previous chapter, we are called to "Hate what is evil; cling to what is good. Be devoted to one another in love. Honour one another above yourselves" (Romans 12:9-10). Our submission is not a mandate for wilful ignorance but rather for engaging with the world in a way that pursues God's will.
Therefore, we have freedom to engage with our political leaders and their policies. Freedom that we might pursue a better story for the governance of our nation, one rooted in God's Word and plan for His creation.
However, change can be slow or even non-existent and it isn't uncommon (nor wrong) to lament with the Lord over the state of our public policy, the character of our leaders and how the country has changed in its cultural norms and ideology.
It is in these moments, when we often feel at our most disillusioned, that we are to remember that our political hope is not to be placed in the latest Cabinet or Prime Minister, but in a king.
"For to us a child is born,
to us a son is given;
and the government shall be upon his shoulder,
and his name shall be called
Wonderful Counsellor, Mighty God,
Everlasting Father, Prince of Peace.
Of the increase of his government and of peace
there will be no end,
on the throne of David and over his kingdom,
to establish it and to uphold it
with justice and with righteousness
from this time forth and forevermore.
The zeal of the Lord of hosts will do this."
We do not need to doubt the Lord and His plan. Rather, we can breathe a sigh of relief that the Lord Jesus is King. He sits on the highest throne, and he will uphold His Kingdom forever. The day is coming when every knee will bow and recognise who our true governing authority is. Every new Prime Minister is simply one less Prime Minister before the Lord's return.
No general election or political downfall can thwart the Lord's plan for His people. We can take utmost comfort in knowing that "of the increase of his government and of peace there will be no end".
Engage, engage, and engage again
Whilst we are often encouraged by our teachers and politics departments to complain, Christians have a reason to do otherwise. We have a reason to engage positively.
Whatever you think of the new Prime Minister, we can trust that Mr Sunak has been placed in Number 10 for a reason and that we are to submit to his authority. We can also continue to pursue our calling to hate what is evil and cling to what is good.
Most importantly though, when we feel disillusioned or want to give up, we can turn to Jesus as our hope. We need to cling to the eternal truths and perspective of Isaiah 9, reminding ourselves of where true authority rests.
The new Prime Minister might give us some temporary hope, or perhaps he will disappoint us. Either way, we can submit to him and engage with his policies and politics. In doing so, we are practising our obedience to the Lord's will and His Word until He comes again. May His Kingdom come!